2
7 Ways Princess Diana can help you bring your heart to your business
Dear Lovely Business Owner,
Can you remember where you were twenty years ago today? I certainly can, I was making my way back from a lovely stay with my friend Leo's boyfriend's family in the heart of the black forrest in Germany. I was hitch-hiking my way back.
I remember as the day went on, and the closer I got to the ferry in Holland, people just literally fell silent and were mesmerised by the television screens. It was break-taking. People were stopping traffic.
People were just sat watching television screens crying, me too. Sitting on that ferry home, across the sea, I remember sharing heartfelt, heart-string-pulling moments with people of how Princess Diana had moved us.
Princess Diana had given us hope and shown us the power of unconditional love. It was a healing it itself, as was her life, to me and millions of others across the world.
Here are Seven ways Princess Diana's can help you bring your heart to your business.
Show up and be fully present. People sharing stories of their personal experiences of the late Princess Diana, always share that when she was in their presence they felt so seen, so valued and so heard.
Princess Diana helped people to feel that they mattered to her. In  a world full of more white noise and distractions than ever before just doing this, you can really create a deeper connection with people you are with.
Today, show people that they matter to you; this could be in whatever way, be in on a skype call, during a tweet up, in person, just fully focussing on them, so that you ca truly connect heart-to-heart with them just like Princess Diana.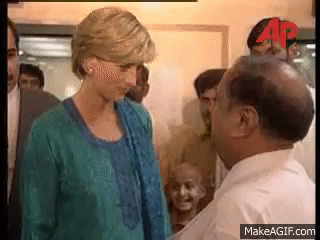 Princess Diana being present
Have a giggle. One of things people loved about Princess Diana, was she was such a giggle. Even during a recent emotional programme during which Prince Harry and the Duke of Cambridge shared their heartfelt and moving stories about their mother, they shared just how much fun she was.
Prince William, the Duke of Cambridge shared how he thought his mother would be a bit of a 'nightmere,' as a Granny and be really playing up, which his children would have loved, like he and his brother had.
How can you lighten up your communication with your clients and tribe? For me, I do find a Gif is great fun, as is just sharing silly moments and having a giggle at ourselves.
For example: when I recently shared in a blog post about how PR can be like going clothes shopping with your dad, quite a few people have been in touch, having a  giggle with me about it, as it was for them too like a real-life comedy..
Even waiting outside sitting on the seats outside the changing rooms I had several hilarious chats with women, one lady said only until her husband trousers had literally ripped would he come to get some new ones, another literally had to bribe him with some cake, we cried with laughter….
Empathise. Empathy for me means just being there, caring  and having an open heart. Millions of people, crying uncontrollably at times, about how Princess Diana touched them, all say that they felt touched by her. That they felt moved by her. That she really reached into their hearts and helped them to feel whole and human.
She just embodied empathy; without judgement, which can sound tricky, sometimes I scratch my head about this, as I can get triggered, especially when people are mean to each other, or cruel, I find it hard to empathise at times with those who do it.
How can you do this in your business? When you next encounter someone who is interested in your work, you can just embody empathy, be caring and just be there, with an open-heart; which for me is the nature of what I mean by a 'return on connection,' try it and let me know how it feels and how it goes, yes even with those who are being aggressive, or unpleasant, which can be very tricky at times.
Make a stand for what you believe in. Princess Diana did this many times, with all the wonderful causes which she backed,  many before many other Royals, or people in the public eye had ever done, in the way that she did.
For example: she believed in the importance of caring for those who were vulnerable, such as homeless people, and from a very young age took her boys to  a homeless shelter to educate them on how other people struggle which the Duke of Cambridge still is connected with.
This is something that is much easier to do nowadays with the Internet, so look at how you can show the world what you believe in, in whatever way feels right to you this does not need to be a public thing; although it can be.
Last October I volunteered my time to work as a Marshall for the Royal Marine's Commando challenge in Devon and whilst it was hugely out of my comfort zone it was a wonderful life-changing experience and a real giggle 🙂 https://www.commandochallenge.co.uk 
Practice Kindness. Princess Diana was noted for her kindness in her presence and through her actions. She was known for a kind smile, a kind acknowledgement of many people who did not get acknowledged ever and for sharing her time and her position to get messaged and businesses out into the world.
She helped to launch many charitable campaigns such as the famous landmines one, whereby she walked across a field of them to get the issue out there much more, to wearing up and coming fashion designers new dresses. I
n your business, how can you share someone else's work, or causes, it does not take much to Retweet, or share or to make a heartfelt comment on a blog post, In  only a matter of seconds yet it can mean the world to the recipient.
https://www.halotrust.org/media-centre/news/20-years-after-dianas-visit-landmines-are-still-killing-angolas-children-landmine-free-2025/
Be yourself No-one can ever compare to the Princess, who was fully herself even when she was crying or looking frightened she looked herself. Her causes and her open-hearted, her empathy, her kindness and compassion were not an act whilst under the watchful eye of the media, they felt and looked utterly genuine.
When you are you, fully you in your business, owning yourself fully, your gifts, your flaws and your power you will discover your business becomes easier and more people will be drawn to working with you, and to following you.
Be vulnerable. The late princess, shared from her heart so many times, one that stuck with me, was during her interview when she shared her pain of being married to the Prince who was in love with someone else.
You really felt for her.  How can you be vulnerable, like the Princess, like Brene Brown, as vulnerability creates emotional connection, and meaning which creates trust which makes people want to know more about you. It does not need to be dramatic all the time either.
If you would like to know more about how you can bring your heart to your business, to increase your impact, get in touch to arrange a free thirty minute chat to see how I can help you to channel your heart into your business. Email: carrie@theblondepreneur.com
Princess Diana, the Queen of Hearts will live in our hearts for ever.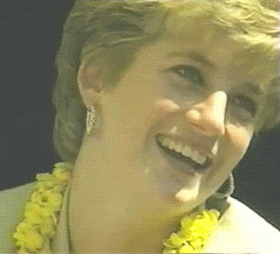 Princess Diana smiling
Love Carrie x